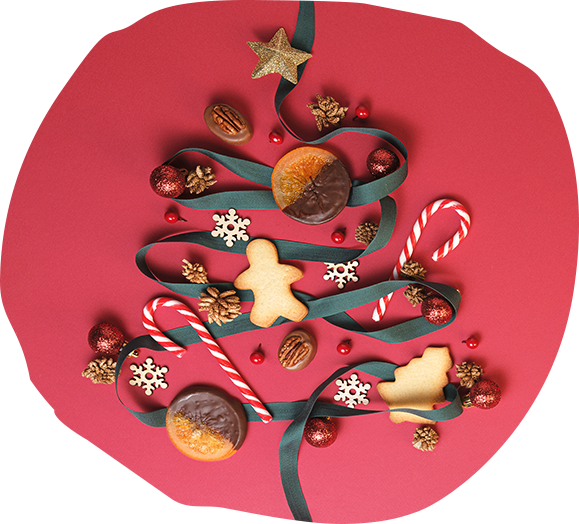 Collection
Christmas Treasures
Discover our festive confectioneries and Christmas chocolate assortments : chocolates, candied fruit, candied chestnuts, Provence delightful sweets. Merry Christmas!

Discover the range
The Magic of Christmas is back! Discover the delightful world of our Christmas Treasures, to enchant your festive moments: Provençal sweets, artisanal treats, and the inevitable favorites, Christmas chocolate boxes.
Every year, we embrace the festive tradition to offer you a selection of delights that speak of us, our Centenary House, and its expertise, and also of you, the upcoming joy of reuniting with your loved ones around delicious and warm flavors.
We have put together for you a selection of small tokens and also original and unique compositions, to give or enjoy with family and friends.
The Christmas Treasures bring together original compositions for young and old: Christmas under the tree... we love it! We had great fun imagining this one: truffles, calissons that speak of our beautiful Provençal region, candied chestnuts that are so much part of the celebration... The Christmas pouch was well received by our testing panel... the confectionery children, who will use the pouch to store their cuddly toys and other treasures!
In the Biscuit Factory, we are delighted to present our new products. Our pastry chefs also lent a hand, with homemade cookies made in our workshop just a few steps from the river, in an environment of nature and calm.
Candied chestnuts are back, in boxes, in bags, and also in the form of crumbs to accompany the roasted meats of the festive season... a delight!
A burst of sunshine and light is hidden in our Provençal specialties, which are also part of the celebration: calissons, this delicious preparation of almonds and candied fruits, the melting and fruity fruit pastes, chocolate olives... our region is rich in these delights that find their place on the Christmas table.
Let's also talk about chocolates, which receive all our attention: our Christmas chocolate boxes are a real success every year... more traditional but always appreciated, they offer themselves without moderation to our love of indulgence: melting truffles, boxes and their assortment of chocolate creations, orange peels dipped in chocolate... just the way we like them!
Less of a chocolate fan? Our creations around crystallized flowers echo delicate petals, and sometimes leaves, which are used in the perfumery of Grasse. Transformed by our confectioners, the flowers of Grasse bring a touch of originality to your gifts: flower delights, rose, jasmine, violet... crystallized flowers delicately placed at the bottom of a champagne glass for an unexpected festive effect that always brightens the eyes... and the taste buds.
Fancy a tasting basket? Our workshops have created gourmet baskets with themes close to our region: "fruits of the sun," with its shimmering colors, "All chocolate basket," which holds beautiful surprises, the Violet, the Rose offer you a bouquet of flavors that make us proud.
Simply put, artisanal citrus jams, on their own or in a box, are a delight in themselves, a pleasure that is renewed every morning at breakfast time, a simple yet subtle pleasure that sets the tone for starting the day.